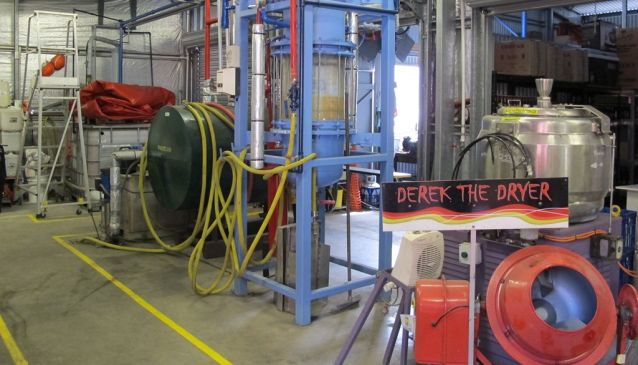 Australia's 'LIL' Sugar Mill
Family Fun
A visit to Australia's only fully operational miniature sugar processing mill is a must!
This distillery is a totally unique experience, one of a kind, in fact, the only one in the whole of Australia.
Using authentic miniature sugar processing machinery which has been sourced from all over the world, the mill experience is a tour, an education, and a mouth watering dream for visitors with a sweet tooth.
But what's a 'lil old' sugar shed doing in the middle of a rural town, 30km south of Mackay? Well, sugar is the reason Sarina is here, not the other way around. In 1894 local sugar growers got together and built the first mill at Plane Creek. As soon as the mill began running the settlement began to grow, and soon it had a blacksmith, a storekeeper, and a postmaster. By 1905, there were two blacksmiths, two storekeepers, a butcher and two hotels; that is when Plane Creek changed its name to Sarina. By 1911, the number of cane farmers had doubled and so had the facilities, there were many more hotels, a primary school and churches.
Where there's sugar there's also discarded molasses waste (left over after processing the sugar cane), soon it was discovered that this waste made excellent alcohol, and this was when the Sarina distillery was born. So, Sarina grew up because of sugar, and the Sugar Shed tells its story in miniature.
As part of the Sarina experience visitors are invited to tour the factory and the distillery. Here you can witness just how this rather uninteresting looking sugar cane is transformed into the granules which you put into your tea, onto your cereal, and what you use to make cakes and biscuits. You will be able to see the processes involved in harvesting, extraction, evaporation, boiling, and storage; processes which have remained virtually unchanged for the past 100 years. But today during your visit, you'll find out that the mill not only processes sugar, but it makes some tasty treats as well. There are homemade lollies, fairy floss, jams, and sugar cane juices for the kids, and for the adults, there's a special treat. The sugar cane here also goes to make rum, liqueurs and schnapps, and if you're good, you can have a complimentary taste or two at the end of your tour, it would be rude not to!
Sarina Sugar Shed facts and info.
Opening times: 9am Monday to Saturday, closed Sundays and public holidays
Tour duration: Approximately 1 hour
Tour times: 9.30 am, 11.00 am, 12.30 pm & 2.00 pm.
Entry Prices: Adult - $21.00
Child (up to 15 years) - $11.00, no charge for children up to 5 years Pensioner/Senior Card Holders - $18.00
2 Adults & 2 Children $47.00
2 Adults & unlimited number of children $53.00
Facilities: Just Sweet Cafe
The Sugar Shed Coffee Shop opens from 9am Monday to Saturday offering tea, coffee, sweets, snacks and sandwiches.
Gift Shop
This is where you'll find locally made sweets, jams, a variety of giftware such as t-shirts and unique Sugar Shed produce. Especially popular are Sarina's range of gourmet sauces made from sugar cane products, and special Sarina liqueur. There are also non-alcoholic drinks such as irresistible homemade ginger beer, brewed to a secret recipe.
Address: Sarina Sugar Shed
Field of Dreams Parkland,
Railway Square, Sarina