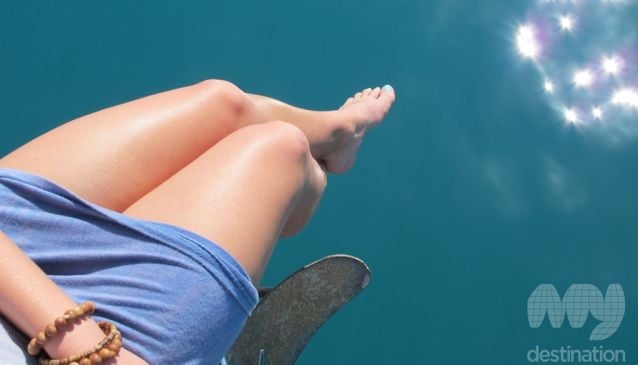 Winners Marko & Alex: The World is Your Oyster!
Adventure
My Destination Whitsundays is proud to introduce the 'Vagabrothers'.
Hey Whitsundays, meet Marko and Alex Ayling, the 'Vagabrothers'. They've tweeted and they've posted, they've blogged and they've vlogged, they've even been interviewed on TV and radio; in fact, they've worked their socks off to beat another 1,251 entries to win My Guide's Biggest Baddest Bucket List Competition. Starting in July these boys will be off, with $50,000 in their pockets, on a 6-month trip around the world visiting 6 continents and 25 destinations of their choice…and one of those destinations just happens to be THE WHITSUNDAYS! Now that won't be a surprise to anyone who's lived or visited this unique part of the world, after all, who wouldn't want to experience the Great Barrier Reef? So, we would like to introduce the dynamic duo to the Whitsundays and vice versa because when they arrive, we'll be just like one big happy family. [Roll of drums] Ladies and gentlemen, My Guide Whitsundays is proud to introduce the 'Vagabrothers'.
If these boys were a road to the same destination Marco, the expressive writer, would be the scenic route; his route would meander past beautiful forests on one side and the shimmering water on the other. Alex, on the other hand, would be the highway. Fast, straightforward and at times precarious; he's the confident adventurer. The brothers from San Diego are no strangers to travelling the world; they've already lived in New Zealand, India and Spain, a place which holds a special place in their hearts. In their mid twenties, the boys were born to a Kiwi expat and a beautiful flight attendant, so travelling and culture are in their blood. After college the brothers went their separate ways to peruse their dreams, Marko to travel the world and write about it, and Alex to take a position on a TV documentary expedition in search of Inca gold. They came back together again in glorious, green San Sebastian in northern Spain where they taught English, pooled their experiences, and set about winning a prestigious competition…their story will continue.
The Whitsundays have been introduced to the Vagabrothers, so boys please meet the Whitsundays. We've been through your list of dream destinations, and we think that we can compliment almost all of the places you've dreamed of, so when you come here you can relive your travel experience one more time, value for money hey? You've said you want to learn Latin dance moves in Columbia, that's groovy, and you can learn a few more on the dance floor at Mama Africa, the hottest club in Airlie Beach. You want a trip to temples in Thailand; the Oriental on Hayman Island is where our top south east Asian food is served. You want to be extras in a Bollywood movie; now that's easy. Everywhere you go in the Whitsundays you'll be on film and treated like stars, but we also have our own HollyWood on Hamilton Island where several Australian films have been made and Bowenwood in Bowen, which was the location for the film Australia with Hugh Jackman and Nicole Kidman. You want to learn jujitsu in Brazil or watch the girls on Ipanema beach. Ipanema is a wonderful experience, but the girls on Whitehaven Beach are just as beautiful, that's a promise. Next you want to find your inner yogi in Bali; in the Whitsundays you'll be able to find that at Spa qualia which is inside the best resort in the world, Qualia.
We're over half way through your list, and the next few aren't going to be quite so easy, but we'll give it our best shot. You want to experience Istanbul with its Blue Mosque and Grand Bazaar. Okay, so we don't have the Blue Mosque, but we do have the Blue Horizon Resort; you may not be able to pray there, but you can certainly 'stay' there. We also admit that we don't have the Grand Bazaar, but we do have the Airlie Beach Markets, where you will find some quirky and some quite 'bizarre' souvenirs to take back home with you. You want to climb Mt. Kilimanjaro in Tanzania, well how about the Great Whitsunday Walk; you can even run it if you're really fit, it's not a walk in the park. You want to ride a horse along the Silk Road in Kazakhstan; well we've got trail riding at Stoney Creek Farmstay, you won't get to sleep in yurts, but you'll certainly have a chance to see koalas and wallabies. Next you want to travel through the deserts of Oman with the Bedouin. We don't have deserts in the sub tropical Whitsundays; however, we do have desert(ed) islands, we could show them to you from the wings of a tiger moth, how does that sound?
Finally, you want to dive in the heart of the Great Barrier Reef. Now this is something you won't be able to do anywhere else….see you soon in the Whitsundays!