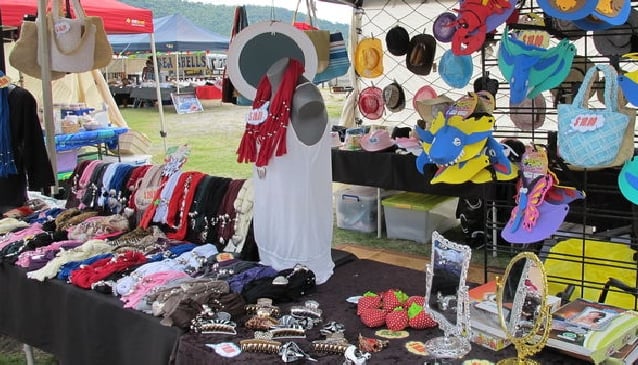 Beach Markets in Paradise
Arts & Culture
...the petite pancakes are serenaded by friendly local, Jen with her ukulele while they wait.
Every Saturday this idyllic Whitsundays beach is transformed into a vibrant, artistic market, rich with the creative talents of this freethinking town and bursting with treats to tempt your wallet and your stomach. Come to browse the local delights on display or simple pitch up to soak up the atmosphere… something Airlie has in bucket loads…
Airlie Beach in Whitsundays is one of the most picturesque and idyllic places in the whole of Australia. The calm, deep blue waters that surround it are filled with a wealth of sea life while the white sandy shores and verdant backdrop make staying on land as enticing as strapping on your snorkel. As ships, luxury yachts and small charter boats take marine enthusiasts to the Great Barrier Reef nearby, you can only imagine how this must have looked to Captain Cook when he first arrived here; paradise on earth...
Whitsundays is understandably popular with both locals and visitors however; it isn't all down to aesthetics. Charm and warmth also attract people here and the weekly market at Airlie is a prime example of this intoxicating feature. Held every Saturday Airlie Market celebrates the local community's artistic prowess, offering tourist's a real insight into local life and locals a way to come together and showcase their wares.
All manner of things are available to buy here, from homemade soaps, scarfs and slushies' to antiques, clothes, hats, plants, fancy boxes, snorkelling gear and jewellery. Local paintings are on offer from artists just starting out, as well as iconic pieces from more seasoned professionals. The beach environment means that old-fashioned, vintage, nautical home ware like boat wheels, telescopes and diving bell helmets are also all up for grabs. Indeed, the array of paraphernalia on offer from these market stalls is quite staggering.
Wandering the aisles and soaking up the atmosphere, you quite literally can't predict what you may stumble upon next. Homemade hippy style clothing in bright colours and tie-dye prints are available from many stalls where their colourful cloths dance in the sea breeze. Backpackers and buskers on their way through the market quickly snap them up, while visitors who have time on their hands stop and browse. Handmade jewellery is laid out for all to see, with many of the necklaces and bracelets created using feathers, shells and other materials from the beaches around.
Be it a gift or souvenir for yourself, one other advantage Airlie Beach market has over a shopping centre is that you're outside, and that can only mean one thing in Aus - a BBQ can't be far away. Shopping is tiring. Fact. A well-timed pit stop for some sustenance has to be factored into any shopping trip.... and with so many tasty treats on offer at this particular market it's going to be hard to know quite where to begin…
Homemade ice creams, mango slushies, lentils and fresh fruit and vegetables are readily available to munch away on, as well as herbs and spices pre-packed with recipes printed on the back to take home for later. Whatever you do though, make sure you don't miss the petite pancakes, not only do they taste delicious but you'll also be serenaded by friendly local Jen, who is on hand to entertain the crowds with her ukulele while they wait.
For those with little ones you might also be interested to know that on selected days you can enjoy the sights and smells of Airline market from the back of a camel. These sand dwelling creatures operate along the beach and make for one of the best things to do in Airlie Beach.
When you are shopped out, have sampled all you can, enjoyed the camels and filled your memory card with photos, round your Airlie Beach Market experience off with a coffee (and slice of cake) at a marquee overlooking the beautiful Whitsundays Islands. Who says you can't have characterand beauty? Come to Airlie Beach Market and you'll be spoilt with both…