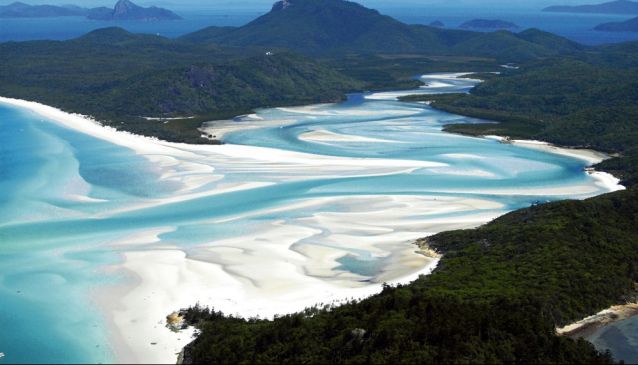 The Gateway to the Great Barrier Reef!
Adventure
A nature lover's paradise, a beach worshipper's dream...
Check out our selection of videos below to see the paradisical Whitsundays for yourself!
Encompassing 74 beautiful tropical islands and a handful of tourist-interest towns, the Whitsundays has emerged as the gateway to the majestic Great Barrier Reef. While tourists will attest to this statement, media moghul and one of the most powerful women in the world - Oprah Winfrey - has declared this publicly! Yes, if you want to experience all that the world's largest coral reef system has to offer, a Whitsundays tour is your ideal starting point.
A smart and most rewarding starting point for your reef adventures
When you land in the Whitsundays, you enter a paradise with numerous exciting treasures to be discovered! The region is home to a slew of natural wonders that offer so many exciting activities and opportunities that visitors often end up planning two separate itineraries, one for the Whitsundays and one exclusively for the Great Barrier Reef. Where do we start? Well, there's the world renowned
Whitehaven Beach
and
Hayman Island
, home to Australasia's premier luxury-come-nature resort, to the coastal hub of the Whitsundays that is
Airlie Beach
and
Long Island
with its 13km stretch of National Park walking tracks and lush flora and fauna. And we've only just mentioned just 1% of the spectacular experiences that await you on the islands.
A quick screenshot of Whitsundays
To get a sense of Whitsundays' magical appeal, here's a quick look at Oprah's visit to the island, which received unprecedented coverage, being viewed by people in 145 countries. After touching down in Cairns, Oprah preferred not to put her feet on land and jettisoned off to
Hamilton Island
in her private jet. She stayed in supreme comfort at the most luxurious
Whitsundays accommodation
, the
6-star Qualia resort
, for the duration of her Whitsundays tour. Here's a bunch of things that Oprah enjoyed, which you can too:
Take a drive around Hamilton Island in a buggy to explore the sights and scenes, and see cute and cuddly koalas in the Hamilton Zoo.
Take a private helicopter or light aircraft tour over the magnificent Great Barrier Reef. Like Oprah, you can marvel at the natural heart-shaped reef discovered in 1975, by a Air Whitsunday airline pilot and possibly even plan an unforgettable proposal to your loved one (for the record, Heart Reef is a well-known romantic spot for 'aerial' marriage proposals!). Let your pilot know prior to your tour, so they can hover over or fly around for longer, giving you ample opportunity to summon the courage!
Walk on the pristine Whitehaven Beach, arguably the best of the many Whitsundays beaches, with its gleaming white silica rich sands feeling like soft talcum powder between your toes! Whitehaven Beach has been voted the worlds No1 eco beach and amongst the top 10 whitest and cleanest beaches in the world, with its sands being made from no less than 99% pure white silica. It's no wonder that Whitehaven Beach is famous for its private dream beach weddings.
Check out this video of a dream wedding on Whitehaven Beach
Of course, Oprah received a welcome fit for a queen, with a specially prepared seafood spread by celebrity chef Curtis Stone in accompaniment with a soulful rendition of 'I still call Australia home' by the Ten Tenors. You too can feel just as special when you come a-visiting.
A top 10 Aussie destination
Millions visit the Whitsundays Islands every year, and it is widely considered one of the most popular vacation spots Down Under, and for good reason. A nature lover's paradise, a beach worshipper's dream, the stunning islands that float like gems in the beautiful waters of the Coral Sea have the kind of allure that few have. Exploring and experiencing all that the Whitsundays has to offer is quite easy thanks to the many services and tours in the region. Whether you want to swim with the fish on a snorkelling or diving trip to the corals of the Great Barrier Reef, observe black flying foxes, wallabies and kangaroos on Whitsunday Island's National Park, catch glimpses of loggerhead turtles and humpback whales near reef waters, let your hair down at a nightspot or just relax at an island resort, every minute spent in the Whitsundays is bound to be memorable!
Getting there
With its location on the central coast of Queensland, the best way to get to the Whitsundays from major destinations is
via air
. You can fly into Sydney, Cairns, Melbourne or Brisbane and then book a domestic flight to one of the islands' two airports (Great Barrier Reef Airport in Hamilton Island and Whitsunday Coast Airport in
Proserpine
). Brisbane is probably the best choice as it offers a wide choice of connecting flights to the Whitsundays. Some approximate flight times are given below:
Brisbane to Whitsunday Coast or Hamilton Island - 1.5 hours
Cairns to Hamilton Island - 1.5 hours
Melbourne to Hamilton Island - 3 hours
Sydney to Hamilton Island - 2 hours
With so much to see and do on the magnificent islands, you'll be doing yourself a big favour by choosing the Whitsundays as your gateway to the Great Barrier Reef. Promising unforgettable experiences, magical moments and encouraging a greater appreciation of nature's splendours, the Whitsunday Islands guarantee remarkable vacations!