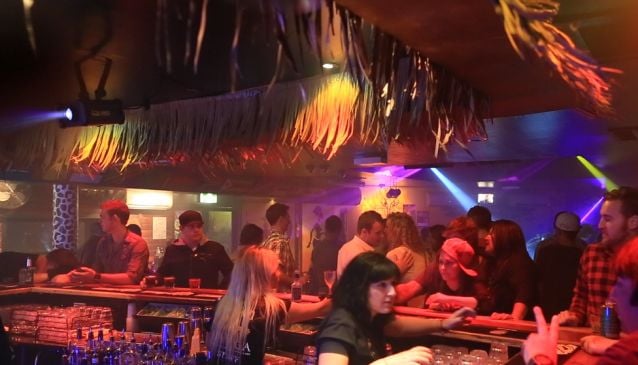 Airlie Beach - Hub of The Whitsundays...
Adventure
Whether you're a billionaire or a backpacking student, Airlie Beach is the perfect base to experience the Whitsunday Islands. Fun and excitement, relaxation and pampering, its all here and waiting for you.
Airlie Beach – Two for the price of one. Airlie Beach is, in fact, Airlie Beaches; there are two of them. Palm lined Airlie Beach is the resort's original beach just off the esplanade. It's popular with both sunbathers and sundowners (those romantic types that like to watch the sun set over the horizon). It's also close to some excellent accommodation and places to eat. The other beach at Airlie is Boathaven Beach, part of the Beacons Development at the Port of Airlie; this glistening stretch of sand makes a nice alternative to the town's main beach.
Beached out? If you've had a little bit too much sun and you need to restock on your tanning lotion, or you need that last minute souvenir for the folks back home, Airlie Beach has some terrific shops where you can buy all those essentials, organise trips and much more.
Shopping - Shute Harbour Road, the main street, is where you can pick up anything from beachwear to aspirins and from Whitsunday key rings to some fantastic images of the beaches and the reef. The Saturday morning market along the sea front is also a popular spot for locals and visitors to pick up local produce and crafts. But, if you're into shopping in a big way, just outside the centre of Arlie Beach, at Cannonvale, you can find the Whitsunday Shopping Centre with 50 stores, banks, and restaurants.
Here is this month's shopping suggestion:
For the perfect souvenir or gift for the folks back home visit Into the Blue, the gallery of Shane Batham. Shane not only produces fantastic pictures and videos of the Great Barrier Reef, he also sells postcards, dive books and calendars.
Things to do– Airlie Beach is the perfect launch pad to take off and enjoy some thrilling reef experiences, whether that's above or below the water. There's diving and snorkelling, sailing and luxury cruises. There are dry land activities too, secluded beaches or sub tropical rain forest, national parks and waterfalls, and of course, there are opportunities for sports, pampering, and adventure. The area is packed with things to do and opportunities to do nothing at all.
Spend the day strolling along the protected coastline and experience deserted beaches, take a hike and find a lookout point with views over the ocean, go in search of wild animals (the Proserpine River is home to over 200 Estuarine Crocodiles), or maybe go in search of migrating birds in the waterways and wetlands of Goorganga. Tee off for a round of golf or two at Bowen, Proserpine, or visit and award winning spa. Airlie Beach is the perfect place to experience all these things.
Here are this month's suggestions on things to do:
For day cruises out onto the reef choose a company with a world class pontoon and the latest catamarans. Cruise Whitsundays has both those things, as well as boats with plenty of room which travel to an array of destinations. Cruise Whitsundays. Able Point Marina North, Airlie Beach.
If you've got nerves of steel then Skydive Airlie Beach will be right up your street. For the ultimate ariel view, whether you're a beginner or a regular jumper, these two and three hour trips are breathtaking…quite literally. Skydive Airlie Beach, Whitsunday Airport, Flametree
There are just three more things that go to make the perfect trip, food, nightlife and a place to rest your head, and at Airlie Beach, there's plenty of choice.
From fish and chips on the beach to a gourmet meal in elegant surroundings, you can't beat the choice of places to dine at Arlie Beach. Fresh is the order of the day, and that means the seafood, the veggies, and the flavours.
Here are this month's dining suggestions:
Peppers Coral Coast, Mount Whitsunday Drive, Airlie Beach
You don't need to be a guest to enjoy the incredible dining experience at this Peppers Resort, as it is open to all. Tides restaurant and bar has a chic open air design overlooking the beach, and its modern Australian/Asian style cuisine includes only the freshest, locally sourced ingredients.
Alain's Restaurant, 44A Coral Esplanade, Cannonvale, Airlie Beach
A unique and intimate fine dining restaurant, nestled amongst tropical palms, Alain's Restaurant is perfectly positioned directly opposite the beach. The restaurant boasts a relaxing tropical North Queensland outlook; whilst inside, there is a chic Parisian ambiance and food to match.
Monday though to Sunday, Airlie Beach has the reputation of offering the widest choice of nightlife in the area. There are bars of all kinds, from sophisticated wine bars to Irish taverns, there are nightclubs and live bands, and for those who enjoy a challenge, there are plenty of opportunities for quiz nights and crazy competitions.
Here is this month's nightlife suggestion:
A favourite with locals and tourists alike, Mama Africa is Airlie Beach's buzzing bar and nightclub. Every night is party night in Africa, so put on your dancing shoes and take to the zebra influenced dance floor. Mama Africa, 263 Shute Harbour Road, Airlie Beach
As you may already have guessed, whatever type of accommodation you're looking for, Arlie Beach has it. Luxurious apartments on the hillside, sophisticated hotels on the beach, bed and breakfasts, motels, backpacker hostels, camping and caravan parks, whatever your budget, you'll be rewarded with superb service and a great atmosphere.
Here are this month's accommodation suggestions:
Airlie Beach Hotel, the Esplanade, Airlie Beach.
The perfect hotel to start your Whitsunday experience. Right in the heart of Airlie Beach, the Arlie Beach Hotel is on the doorstep of all the resorts shops, restaurants, bars, and the beach itself. If you're looking for a convenient and comfortable hotel, this is the one for you.
Peninsula Airlie Beach, 144 Shingley Drive, Airlie Beach.
The Peninsula Airlie Beach is the resorts most luxurious 5 star beachfront accommodation. In a prime waterfront location next to the Abel Point Marina, the hotels apartments and penthouses all feature live-on balconies with views of the marina, the sea, and the islands.