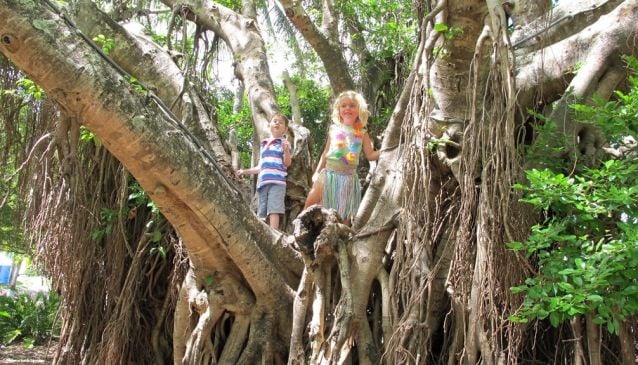 Family Fun in the Whitsundays
Adventure
Airlie Beach lagoon is where you can swim, play and enjoy a traditional Aussie Barbecue
The Whitsundays is one gigantic adventure playground for all the family, with every conceivable activity to keep kids amused and parents happy. Each resort has its own special attraction, and that's why so many families choose to spend their precious spare time together here, close to the Great Barrier Reef.
There's fun for free, fun on land, fun on water and even fun in the sky. There's family fun for the whole family, and if your kids are old enough to have fun on their own that's fine too, as many of the activities for children have suitably qualified adult supervision.
Here are just a few ideas to get you going but there are lots more, so what will you and your family choose to do in the Whitsundays?
The hub of the Whitsundays, Airlie Beach.
On the mainland, Airlie Beach is a superb spot for families. It has all kinds of family friendly accommodation, but it also has enough going on for everyone to spend their entire trip being busy busy busy.
Airlie Beach for Free
With all that sand and warm water, Airlie Beach lagoon is where you can swim, play and enjoy a traditional Aussie Barbecue. The swimming here is safe and there's always a lifeguard on duty, so find a place in the shade, in the sun, on the sand or on the grass, whilst the kids let off steam at the playground or the water. You're also close to the shops so that means your all-important ice cream won't melt on the way back.
Head out to Shute Harbour Pontoon or seek out a secluded cove and try and catch something for your supper. The water's full of fish so perhaps you'll get lucky. As long as you have your own fishing gear this activity is free.
Be a modern day Crocodile Dundee and explore the Airlie Creek walking track, just a short walk from the main street. This graded climb covers 850 meters, meanders through the rainforest with wild fig trees, and finishes with fantastic views and gorgeous rock pools. Don't forget to watch out for the local wildlife and birds along the way.
On the water
You may think that water sports are only for older children, but it's not true at Airlie Beach. Scuba diving lessons can be taken from the age of 8, to be a passenger on a Jet Ski your child only has to be 10, to drive it they need to be 16.
With this in mind why not try out an Eco Jet safari? Not only are they exciting but they're educational too. These half or full day tours visit the Whitsundays World Heritage Marine Park to see pristine beaches, turtles, dugongs, dolphins, whales (in season) and thousands of multicoloured fish.
Phone: 07 4948 2653
Email: info@ecojetsafari.com
Website: www.ecojetsafari.com.au
Following on the watery theme, another popular experience is ocean rafting in semi rigid inflatable vessels. These super fast boats offer a fun ride and are not only adventurous but education too. Travel out to uninhabited islands with incredible wildlife, white beaches (including the famous Whitehaven Beach), and there's plenty of time for snorkelling and swimming, woodland walks and making sandcastles.
Phone: 07 4946 6848
Mobile: 0428 466 848
Email: oceanrafting@airlie.net.au
Website: www.oceanrafting.com.au
If you're looking something sedate, how about a cruise? There's everything from day cruises to sundowners, and the whole family are welcome to jump aboard. Visit sights such as the Great Barrier Reef and Whitehaven Beach, or simply cruise out to one of the islands such as Daydream Island for the day.
Phone: 07 4946 4662
Tollfree: 1800 426 403
Email: reservations@cruisewhitsundays.com
Website: www.cruisewhitsundays.com
On Land
Another free attraction, but also in the 'land' category, is peaceful Conway National Park. Overlooking the Whitsunday Passage, the rainforest-clad mountains, forested hills and deep valleys are home to Proserpine Rock Wallabies, the Australian Brush-Turkey and Orange-Footed Scrub Fowl. Say 'Wadda-moolie' (welcome) to the Gia and Ngaro Elders. They are the traditional owners of the park, and after you've said hello, head for the ridge above secluded Coral Beach for the best views, and don't forget a picnic to enjoy at the top.
Phone: 13 0013 0372
Toll free: 1300 130 372
Email: qpws@nprsr.qld.com.au
Website: www.nprsr.qld.gov.au/parks/conway/index.html
These are just a handful of things for families to do at Airlie Beach. For more family fun visit the Airlie Beach pages.
Hamilton Island – The Family Gateway to the Great Barrier Reef
For Free
Everyone's welcome at the Bougainvillea Marquee where the Kids Fun Zone is dedicated to free, fun family activities for kids of all ages. Bring a picnic down to the lawn overlooking Hamilton Island Marina and enjoy Marina Daze, live music throughout the year. Chill out under the trees, or maybe have a dance.
If your accommodation includes a buggy, why not do your own family island tour golf cart style. Take a ride up to the lookout point, or cruise the waterfront area.
On the Water
On Hamilton Island Jet Ski passengers have a minimum age of 10. For solo kayaking its 13, and there are plenty of options which you can do as a whole family.
The first activity is dinghy hire. There are two different types of small motor boats which take a maximum of six (regardless of size). Sailors are given a map, and following a safety briefing, it's off into the ocean to enjoy the islands or perhaps a bit of fishing. For a full or half day you can go fishing, swimming or visit a deserted beach before sailing back again.
Hamilton Island Marina
http://www.hamiltonisland.com.au/dinghy-hire/
This is probably the biggest and the most popular family event on Hamilton Island – a trip to Reefworld. The Great Barrier Reef is one of the Seven Natural Wonders of the World. From a large floating pontoon, you'll have the opportunity to snorkel, dive and swim amongst the bright living reef formed millions of years ago, home to hundreds of vibrant fish. Enjoy snorkelling and diving, or experience the fascinating underwater world of the reef from a submerged viewing chamber and a semi-submersible submarine. Trips are available by high high-speed catamarans or by helicopter, and lunch, snacks and drinks are all included.
Hamilton Island Air, Cruise Whitsundays
email: tourdesk@hamiltonisland.com.au.
For families with older children Jet Ski tours are a terrific way of seeing the surrounding islands. Drivers must be 18 years of age (minimum), but at 10, the kids can hop aboard and enjoy speedy adventures which are made all the more interesting with a commentary.
Hamilton Island Marina
email: tourdesk@hamiltonisland.com.au
web: http://www.hamiltonisland.com.au/jet-ski-tours/
On Dry Land
If you've got a budding Lewis Hamilton in the family then they can enjoy both quad bikes and Go-Karts from as young as 4 years old.
As a Go-Kart passenger 4-year-olds can whiz around the track with mum dad, or an older brother or sister as long as they're over 11. Go Karts can get up to speeds of 45 kilometres per hour, but don't worry, there are handy lines painted on the course telling you just where you should start braking.
With hands on animal experiences, Hamilton Island's Wild Life Park is where all the family can look forward to getting up close to some of the country's most loveable creatures. There are snakes and lizards, koalas and kangaroos, there's even a resident crocodile. Enjoy a stroll through the park, or take one of the guided Park Keeper Tours and learn about the animals. Perhaps you might like to help to feed the kangaroos, wake up a wombat, or cuddle a koala
In addition to the wildlife and the thrill of a Jet Ski tour, a popular evening family activity is a visit to Hamilton Island Bowling Alley. The 9 pin bowling alley has a kids friendly version too, so with seven lanes of bowling, an amusement arcade, pool table and snack bar, you'll spend a lot of time here
Visit the Hamilton Island guide for more information on these and other family activities.
Daydream Island – Daydreams really can come true for all the family
For Free
Just as you'd expect from an island paradise, Daydream Island has beautiful beaches where you can build sand castles, play a game of bat and ball, a game of cricket, or bury dad in the sand.
The soft sand gives way to the clear blue ocean with stunning corals. This is the place to encounter rainbow fish of all kinds. Put on a snorkel and flippers and join them in their watery world.
Inland you can become an adventurer and an explorer. Discover thick dense jungle and keep your eyes peeled for the natives, colourful parrots and beautiful sunbirds.
On the Water
The Living Reef on Daydream Island could be classed as on land or on the water. But however you look at it, the resort's Living Reef is a terrific experience, with more than 80 species of marine fish and 50 species of coral. There are opportunities to hand feed the resident baby stingrays, gummy sharks and barramundi, all extremely friendly; they won't eat you for dinner!
What's really great about Daydream Island, is many of the on the water activities which some other resorts charge for are FREE! Catamarans and kayaks make a lovely family day out on the ocean; you can also enjoy glass bottom boats as well.
On Dry Land
Let the kids enjoy Skippers Club, suitable for ages of 0 up to 12. There are lots of activities, indoor and out which include treasure hunts, fish feeding, basketball, coconut bowls, tennis, nature walks, mini golf, group games and much more. But don't leave them too long, or they might never want to come home.
The very best family fun on the island is the crazy golf course. Around Australia in 19 holes, is where the whole family can play golf around the country's most famous sites. It's not as easy as you might think.
For a real treat, take a box of popcorn and experience Cinema Under the Stars. Sit back in comfy chairs and enjoy a film on the big screen with the sound of the ocean gently lapping on the beach. You'll never see another cinema like this one.
These activities are only the tip of the iceberg when it comes to family fun in the Whitsundays. Each resort has something distinct from kids clubs to yacht hire. So whatever you like to do as a family and whatever your budget, there will always be some guaranteed fun and exciting things to do together.