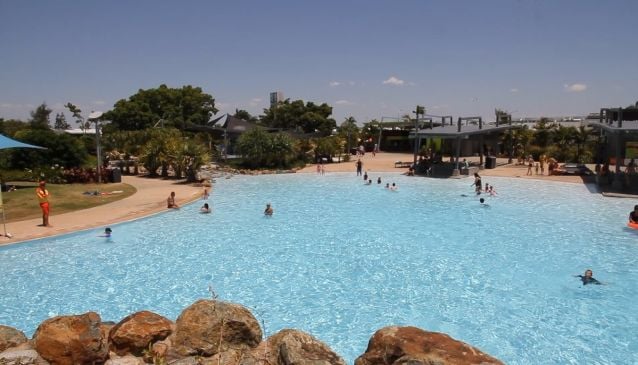 Bluewater Lagoon, Mackay
Family Fun
Safe, fun and relaxing, Mackay's Bluewater Lagoon is the ultimate spot for getting together.
Everyone loves the beach, the ocean, and the glorious Australian sunshine - they're simply heavenly. Heaven they may be, but in spring and summer some of the oceans inhabitants can make it difficult to enjoy the waters off the Queensland coast, and that's why the local, state and federal governments got together to fund a $12.7 million project known as the Bluewater Lagoon.
Designed by some of the country's top architects and designers, the award-winning Bluewater Lagoon represents some of Mackay's natural surroundings - the rocks of the Eungella National Park to the west, the local tall, rustling sugarcane fields, and the regions gorgeous sandy beaches.
The facilities design and the clean, fun, stinger-free swimming experience have all made the Bluewater Lagoon an extremely popular family leisure park, attracting almost 400,000 visitors. Even at the busiest time, there is still space for everyone, and the added bonus is that entry is free for all.
The three tiered tropical pools of the Bluewater Lagoon have views over the picturesque Pioneer River, with each lagoon offering beach-like entry points, so that visitors of all ages and abilities can easily access the water. There are shallow and deep water areas, and a special zero depth area with interactive water play feature for young children. Older children will have an incredible time in the middle lagoon with its very own 19.5 metre water slide while the upper, deep water lagoon provides a peaceful retreat for competent swimmers and adults.
The lagoons are surrounded by spacious, open landscaped grounds which are perfect for relaxing with your favourite book or sunbathing. There are shaded barbecue areas and playgrounds where children can let off steam when they finally leave the water, and in addition, there are changing rooms, toilet facilities, and lifeguards to make things comfortable, convenient and safe. If you come for the day, light meals are available from Burl's Café. You can also bring your own picnic and relax under the trees, or maybe enjoy a barbecue and chill out whilst the family enjoys a fantastic day out.
Safe, fun and relaxing, Mackay's Bluewater Lagoon is the ultimate spot for getting together with friends or family, or just a place to hang out and enjoy the tropical waters for free.
Details at a glance
Bluewater Lagoon facilities include:
· A waterfall connecting the two main pool areas
· A 19.5 metre water slide connecting the top and middle lagoon
· An interactive children's water playground and drop-bucket
· All abilities access points with handrails and shallow water entry
· Deep water areas up to 1.8 meters
· Burl's Bluewater Lagoon Cafe serving snacks, drinks and ice cream
· Free electric barbeque facilities
· Large open areas and shady places to relax
Entry fees and opening hours
Entry is free of charge
The lagoon is open 7 days a week from 9am until 5:45 (September to April) and 4:45 (May to mid July).
Closures (approximate)
Upper lagoon: Mid April to mid July.
Large waterslide: Autumn/Winter (March 1 until to August 31), except during school holidays.
Total facility is closed Mid July until the end August for annual maintenance.
Location and contact details
Bluewater Lagoon
Caneland Park
River Street, Mackay
Email: aquatics@mackay.qld.gov.au