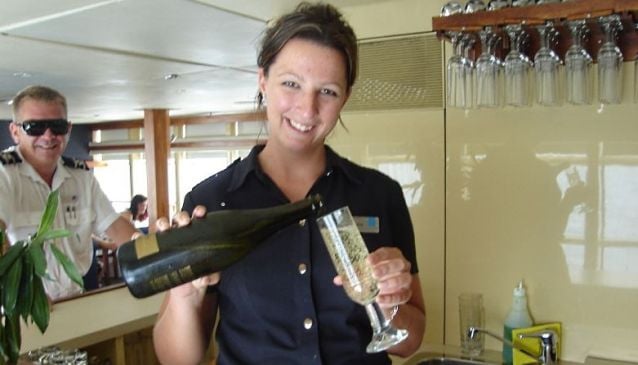 Working in the Whitsundays
Adventure
For the best chance of work, choose Airlie Beach,the islands, Proserpine, or Bowen.
Working your way around the world has always been popular with gap year students and there's invariably one country where almost everyone heads for, Australia and particularly the Whitsundays. But why? Well, the weather plays a big part - the sunshine's pretty much guaranteed and that makes life a lot better, then there's the opportunity to develop new skills and meet interesting people, plus working in the Whitsundays gives you the perfect opportunity to see this stunning region on a budget. Island work in particular, is a great way to access tours, as these are highly discounted for island employees and they often supply food and accommodation as part of your employment package. There's lots of choice and plenty of positions to be filled, so, what do you have to do to get one of these fantastic jobs? Read on...
For the best chance of work choose one of the Whitsunday Islands, Propserpine, Bowen or Airlie Beach, this is where most of the action is. None of the islands have their own employment agencies, although many employees list positions for both island and mainland work available on Seek and Airlie Beach does have an employment bureau. There is also another in Cannonvale and a little further away at Mackay, and all of them offer information, opportunities and accommodation options as well as training facilities. These are good places to start.
Another option is to contact the island resort themselves. Remember Ben Southall, the winner of the best job in the world? In 2009, Tourism Queensland launched a global search to find a Caretaker for Hamilton Island. The six-month contract came with a salary of $150,000, luxury accommodation and the opportunity to tell the world what living in one of the most beautiful places on earth was like. Unfortunately, this kind of thing doesn't come along very often, but you've nothing to lose by contacting the management of the island resorts and asking if they have any positions. Be bold and go for it.
View and apply for available positions on Hayman Island
Daydream Island Careers
Opportunities
The majority of positions available are in hospitality - bar work, house keeping, entertainment staff and wait staff in restaurants. The big positions are mostly filled by locals who know the area well and are around all the time, they're not just on holiday. But if you start at the bottom, or somewhere near the middle, you've got your foot in the door should any other opportunities come up. Make yourself indispensable.
If you don't fancy being polite to people all day everyday, or you prefer to work outside, there are lots of seasonal pickers jobs. This usually happens in the sugarcane industry in Proserpine, and with fruit and veggies in Bowen. If it needs planting, picking, pruning or packing there's work to be done in the Whitsundays.
Ayr / Bowen Harvest Calendar
December to January - Mangoe picking and packing
May to June - Melons
May to November - tomatoes
September to November - Melons
Essential information
In most cases you will need a working visa. Australia participates in the Working Holiday Visa Scheme which has different requirements depending on where you're from; having said that it's not difficult to apply. There are two main criteria for obtaining an Australian working visa, the first is that you're between 18 and 30 years of age, and the second is that you're without dependent children.
Contacts
As we mentioned earlier there are three local employment bureaus', there's also a national company that covers the whole country and has some excellent positions in the Whitsundays.
Australia's no. 1 jobs, employment, career and recruitment site
Action Workforce & National Institute of Training
1 Cumberland House, 2 Island Drive, Cannonvale
tel: 07 4948 1221
PO Box 1444, Airlie Beach
tel: 07 4948 7777
PO Box 643, Mackay
tel: 07 4957 9810
http://www.immi.gov.au/immigration/
http://www.immi.gov.au/visitors/working-holiday/
A working holiday in the Whitsundays is a chance to have fun with likeminded people, learn a few things and get some experience. It's not like work at all!