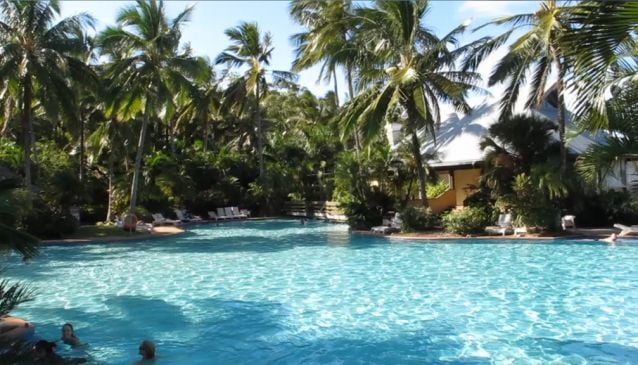 The Ultimate Holiday Island
Adventure
Situated in the heart of the Whitsunday Islands, Hamilton Island is the ultimate holiday destination
This is a place where you can discover all that's great about Australia – the warm blue ocean, coral reefs, great weather, amazing flora and fauna, and fantastic service. The largest and most popular of the Whitsunday's 74 islands, Hamilton Island is a pristine tropical island, with just the right amount of facilities and services to make your stay here extremely comfortable.
Right on the edge of the Great Barrier Reef, Hamilton Island has become one of the best places to spend time whilst exploring the delights of the ocean, and the nearby islands. The island is a place where you can do as much or as little as you like, you're on holiday, and this is your time. If you're into an active break then you can tee off at the local green, enjoy a morning out in a sea kayak, or take a boat charter out for a spot of fishing. If relaxation is part of your dream, then relax by the pool, enjoy a spa treatment, or maybe visit one of the nearby islands for a secluded day on the beach.
Travelling with families couldn't be easier because there are all kinds of activities for the kids. Breakfast with the Koalas at the Koala Gallery, take a glass bottom boat trip or a submarine onto the reef, there's mini golf, a 9 pin bowling alley and of course, there's nothing better than the safe, sandy beach and warm water to keep them amused for hours.
Hamilton Island also has a wide range of accommodation, from luxurious six star resort to Polynesian bungalows, which are perfect for families and groups of friends. And the same goes for food, as the island has as everything from pizza places and take always to elegant dining by the Marina.
Whether you're looking for plenty to do or nothing at all, Hamilton Island is the ultimate Great Barrier Reef destination.
Hamilton Island Facts:
Getting here
Hamilton Island's airport is the main hub for the Whitsunday Islands and the Great Barrier Reef. Flights arrive here from Melbourne, Sydney, Brisbane and Cairns on flights by Qantas, Jetstar, and Virgin Australia. The airport also serves small private charters and operators who arrange flights over the reef.
For visitors who want to take the scenic route, Cruise Whitsundays operate a ferry route to the island from Shute Harbour at Arlie Beach.
Getting around
All arriving flights are met by a free shuttle which transfers guests their accommodation. If you're staying at the Reef View Hotel Suites, Beach Club, Qualia or the Deluxe Holiday Home Villas, you will enjoy your very own VIP transfers by chauffeured golf buggy; Hamilton Island Holiday Home guests pick up their very own buggy from the airport
There are two ways to get around Hamilton Island - by yourself, or by bus, cars are not allowed. If you prefer to go it alone and your accommodation doesn't include a buggy then they are available for rent. But don't forget your driving licence.
Resort Buggy Hire, Resort Drive
+61 (0)7 4946 8263
rentabug@tpg.com.au
Opening Hours: Open daily from 7:30AM – 5.30PM.
If you don't have a licence, or you just prefer not to drive whilst on holiday, then the islands free bus service is just for you. The service between the marina and the resort operates on a continuous 15 minute loop, and the other two services travel clockwise and anti -clockwise on a route which covers most of the island.
Things to Do
• Although Hamilton Island does have a reef and the beaches are perfect, if you want a Great Barrier reef experience, there are plenty of trips available, both for snorkelling and for diving for visitors with a suitable qualification.
• If you want to get an idea of the expanse of the reef, why not try a scenic flight. This is a terrific way to get a true perspective of what a giant piece of nature is under the water.
• If it's a secluded spot with the perfect beach you're after, you have to take a trip to Whitehaven Beach, it's perfect.
• Take a day out on the water and sail around some of the Whitsunday's other islands, or maybe hire a kayak and paddle yourself.
• If you're a golfer tee off at Hamilton Island Golf Course, to do so you'll need to take a five minute ferry ride, as the course is actually on Dent Island.
Where to Eat and drink
The hotel's all have restaurants, cafes and bars available for guests and non guests, the area around the Marina also has a choice of independent places to eat.
• Mariners Restaurant, Front St, Marina Village.
Mariners serves both Australian and seafood dishes with great views and a friendly atmosphere. It's especially good for a romantic dinner for two. Price range: $21 - $61
• Bommie, Front St.
Bommie serves amazing Australian cuisine and excellent wine. A true fine dining experience. Price range: $47 - $69
• Beach Club Restaurant, Beach Club Resort.
The Beach Club Restaurant has a choice of two French menus, a la carte menu and its degustation menu. Price range up to $150.
• Romanos, Front St.
Romanos serves Italian cuisine with fabulous sea views. The staff are friendly, the service is excellent, and the atmosphere is pleasant, not too loud. Price range: $28 - $49
• Marina Tavern, Front St.
An excellent choice for groups looking for Australian dishes, the Marina Tavern also has great cider on tap. Price Range: Budget
Where to Sleep
From bungalows, to hotels, and from apartments to 5-star resorts, Hamilton Island has it all when it comes to somewhere to stay.
• Qualia Resort, 20 Whitsunday Boulevard.
The six star resort has everything from a personal welcome at the airport a beautiful location, sumptuous dinning and fabulous staff. A truly World class hotel.
• Beach Club, 9 Resort Drive
A lovely hotel in an excellent location with comfortable rooms, lots of facilities, excellent food and service.
• Palm Bungalows, 3 Resort Drive
Modern, clean, fresh and comfortable. This is the perfect choice for families and friends, all bungalows come with a full kitchenette, large bathroom, and a hammock on the veranda.
• Whitsunday Apartment, 14 Resort Drive
A place to stay where the staff are friendly, the apartments are spacious, and the huge balconies come with stunning views.
Hamilton Island, the ultimate holiday Island