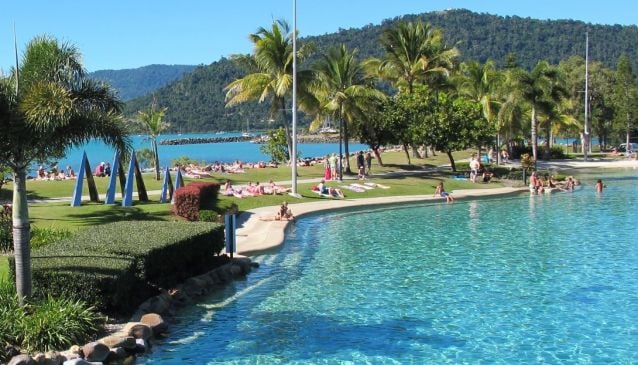 Airlie Beach For Free 
Family Fun
The best things in life are free, or so the saying goes.
The best things in life are free, or so the saying goes. So what is there to do in and around Airlie Beach Lagoon that won't cost you a penny, or a few pennies at the most?
The biggest free attraction is the lagoon itself. The man made lagoon is patrolled by some of those traditional Aussie lifeguards; it has a sandy stinger free beach on one side and a grassy knoll on the other, for those who prefer not to get sand in their toes. There are shady places and areas for sunbathing, quiet spots and a dedicated family zone, and it's all surrounded by landscaped gardens which give it a very lush atmosphere. As well as the beaches and the sea, there is a pool area with two lanes for lap swimming and a section for less strenuous activity, there's a children's pool, toilet facilities and a barbeque area with picnic tables. For locals and visitors this is a top place to meet friends, relax and have fun.
If you enjoy exploring, walking, fitness or wildlife spotting, the Bicentennial Walking Path along Airlie Beach's foreshore is a fabulous way to stretch your legs. Along the route you'll come to fixed exercise equipment and exercise points. They're all free, so you don't need to pay for a gym. Use of the fitness equipment isn't compulsory, but the walk is worthwhile for the scenery alone. If you prefer a short flat walk, take a stroll down towards the sailing club, or if you prefer something a little more challenging, travel in the other direction towards Cannonvale. As you walk you'll have views of Hayman Island in the distance and the boats anchored offshore in the bay. There plenty of opportunities to stop for a drink and something to eat, although you should always carry water with you. You will pass by secluded bays and the marina close to the Coral Sea Resort, here you can take a walk around Shingley Beach and Whisper Bay before turning around and heading back. But, if you're feeling energetic you can always carry on. The boardwalk finishes here, but the route continues. You can walk on, past the Botanical Gardens, all the way to Cannonvale Beach, and if you get this far, don't for get to look out for turtles in the bay, this is one of the best spots to see them bobbing about in the ocean. The full route is 8Km's, 4KM's each way, but take your time and stop to admire the views, there's no rush.
For a totally different perspective you can also try out a new walking track which has recently opened, the Airlie Creek Walking Track. This is a short walk of around 900 metres, 400 metres of gravel path and 500 metres of bush track. What makes this track different from the boardwalk is that it's a rainforest experience, with a chance to see rare plant species including the Whitsunday Bottle Tree (and it's not a tree with bottles hanging off it), and a large Fig Tree at Airlie Creek. When you reach the creek you'll also be rewarded with a small waterfall and some refreshing cascades of water along the way; these are particularly beautiful in the wet season. Wear suitable shoes, a hat, insect repellent and sunscreen. It's very tranquil. Also along the route you can expect to see Proserpine Rock Wallaby's and Bush Turkeys, look out for them building their nests in the vegetation.
You've saved your pennies at the lagoon, the creek track and on the boardwalk, so the next thing to do is either free, or, you may choose to buy something. It's the Visit Art Whitsunday Shop and Gallery on Shute Harbour Road. If you're into art then this is the place to find inspiration, or just admire some works by local artists. Here you'll find watercolours and acrylics, oil paintings and pencil drawings, you'll also see some excellent photography and sculpture. The displays are changed every month, so there's always something new to see.
Another place where your pennies will go a long way is Airlie Beach Market, held every Saturday, or when there's a cruise ship in town. Whether you're just browsing, or searching for that special souvenir to take home, the market is full of interesting jewellery, clothing, crystals and natural remedies. If you're catering for yourself, this is also where you'll find fresh fruit and veggies, if you want to be pampered you can even get a massage. As well as stalls there are buskers, entertainment and food stalls, so grab yourself a frozen juice when you've finished and head down to the lagoon. You'll find the market at the end of the Esplanade towards the sailing club from 7am to 1pm.
The area around Airlie Beach Lagoon is a great place to save pennies, as well as spend them. The money you save here though will go a long way to help pay for a wonderful trip out onto the reef, or maybe a tasty meal at one of the nearby restaurants.