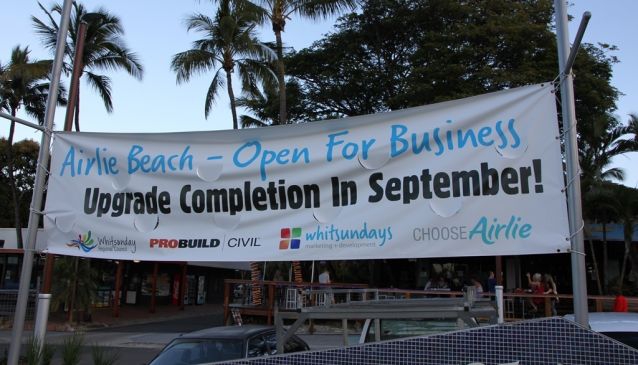 A Toast to Airlie Beach
Editorial
A beautiful butterfly is about to emerge from its chrysalis...
A beautiful new butterfly is about to emerge from its chrysalis, and the residents and visitors of Airlie Beach simply can't wait. It has been a long time in the planning and development, but finally signs are emerging that this brand new beauty is almost ready to show itself to the world. What is it? It's the brand new Main Street in Airlie Beach.
Airlie Beach has always been a popular hang out for fun seekers and backpackers who want to be at the centre of the action. They didn't mind that the pavements were bumpy, and the layout wasn't the best because they were interested in fun and relaxation. However, when the resort began attracting four and five star developments, up market restaurants and shops, and the new port development to the east, there was a great need for an upmarket centre to go with it.
The $20 million upgrade is almost there. The main structural ground works are done, and now all that remains are the final few finishing touches before the centre's completion on the 3rd of September. As with almost all building projects this one has taken a little longer than anticipated. The Reef Festival, which was supposed to coincide with the centre's grand reopening, will now be a celebration of 'We're Almost There'. One side of the street is now complete, but the September completion date is now pretty much guaranteed.
The Reef Festival runs from Thursday the 15th until Sunday 18th August and promises to be four days of fun and mostly free entertainment right in the heart of Airlie Beach. The will be something for everyone - starlight movies, a comedy gala, sand sculptures on the beach and a family fun day on the foreshore. Of course there will be lots more, Airlie Beach really knows how to celebrate and put on a show. You can also expect Porters Friday Night Fireworks, the Rotary Street Parade, live music, dancing and food, and that's in addition to the Great Whitsunday Fun Race from the Sailing Club, and a fun recyclable raft race in the lagoon. We hope that Libby and the team from Eco -Barge have a raft in this competition, if they do, we'll be there cheering them on.
The Reef Festival has been running since 2001, but it's not just for locals, visitors are also welcome to come along and get involved in the real Aussie spirit of things. If you've never been to an Aussie bash, then you really should try this one. Of course although the main street won't quite be ready, you'll also be able to have a sneak peak at what's to come in the newly refurbished and much improved centre of town.