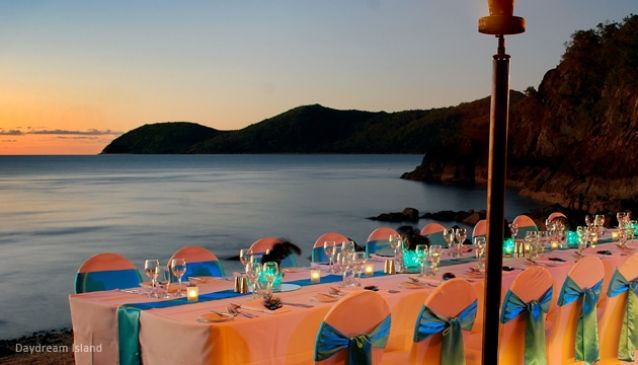 Your dream destination wedding
Adventure
What do Best Job's Ben Southall and many others have in common? they married in tropical Whitsunday.
Winner of 'The Best Job in the World' Ben Southall has done it and Grant Denyer racing car driver and ex-star of Sunrise Weather has also done it, along with almost one couple every single week of the year. So, what is it? They got married in paradise AKA the tropical Whitsundays.
Some couples chose to marry on the famous Whitehaven Beach with the pure silica sand between their toes, others 'took the plunge' and hit the depths for a scuba ceremony, whilst Ben Southall married his fiancee on the 5th Tee of the Hamilton Island Golf Club. But one thing was common to them all — they had the wedding day they had always dreamed of, a perfect wedding with perfect weather, something a little bit different to a church wedding in the middle of a city, and a wedding where they could be themselves and relax.
Whitsunday wedding locations are out of this world, and when Ralph Waldo Emerson said, "Life is a journey, not a destination," he was only half right. Your journey to one of the best wedding ceremony locations in the world will be amazing. You can fly over the crystal clear waters of the Great Barrier Reef to Whitehaven Beach, taking a detour of the most romantic reef on the globe, Heart Reef. You can arrive by catamaran and marry onboard, or take your vows on land at the sailing club, you can choose a magnificent villa on an estate or an award winning resort, you can pick a location out on the reef itself, or one of the island resorts such as Hayman or Long Island. There's just so much choice, and in the Whitsundays you can prove Emerson wrong, because the destination is as equally important as the journey.
My Guide Whitsundays has always known that the area is The place for a perfect wedding, but a recent survey by the Whitsundays Marketing and Development Board has just proved it. Their study revealed that more than 60 percent of couples who married in the Whitsundays flew long distances to realise their dream destination wedding. The attraction was the Whitsundays natural beauty, which combined with the climate, the locations in paradise and the romantic atmosphere, made a wedding here so much more appealing than a wedding at home.
But that's not all, here are some other reasons:
▪ It's easy to plan - The Whitsundays is full of wedding planners, florists, celebrants, places for hair and make up, suit hire, and world class photographers. Or, if you don't want to lift a finger, you can have your TOTAL WEDDING planned to perfection by a professional company who will do as much or as little as you want; there's everything here you need to make the perfect wedding day.
▪ It's relaxing - Not something which can usually be said about marrying at home. The Whitsundays is a relaxed place, there are spas and pools to chill out by before the big day, and everyone around you is happy and willing to help. They love their jobs, and make it look so easy.
▪ It's romantic - It's not easy to have a truly secluded, romantic wedding in the city. If you've dreamed of a secluded beach wedding you've can have it in the Whitsundays. There are lots of countries around the world that offer beach weddings, but time is always of the essence, and there's always someone else behind you hanging around waiting for 'their turn'. In the Whitsundays you're special, and you're always treated that way. Where else in the world can you arrive by sea plane or helicopter on an island where there are no cars, no roads, and it's totally secluded — only in the Whitsundays.
▪ Its dining choices - You may want a large reception for family and friends, or something intimate for just a handful of guests. The Whitsundays has a huge range of venues happy to offer you private dining with excellent food.
If you're looking for the perfect destination for a tropical wedding, My Guide Whitsundays has all the connections you need to make sure you have the wedding of your dreams. Of course, after the wedding there's the honeymoon, and there's no need to travel far to enjoy some relaxing time with your new husband or wife.