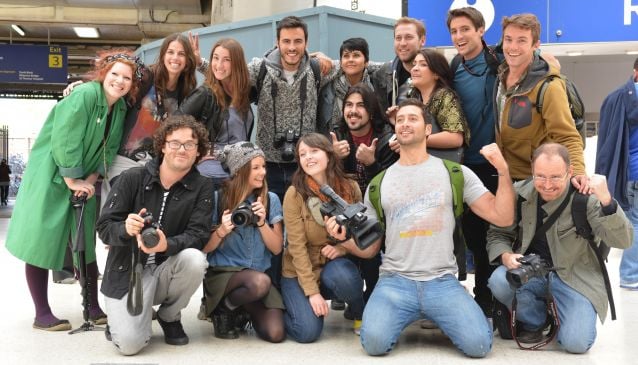 Let the games begin!
Adventure
It's official, the Whitsundays is one of the Top 10 places in the World
Yes, it's true, the Whitsundays has officially been voted as one of the top 10 places in the world to visit by ALL the potential winners of the My Guide Biggest Baddest Bucket List Competition. This is wonderful news for Tammy and the My Guide Whitsundays team, as whoever wins, they will be guaranteed to host the luck winner in the very near future.
All the contestants have worked really hard to win the much needed votes which will get them an around the world ticket to visit their dream destinations in six months. The team in the Whitsundays would love them all to win, but there can only be one winner, so who will it be?
Will it be Alex and Marko Ayling from San Sebastián, in Spain. They are two brothers, Alex - outgoing outdoorsman and Marko - reflective writer. Their most memorable souvenirs are for Mark, Swine Flu from Beijing and for Alex, the severed toe of an ostrich. Don't worry lads, there's nothing bad like that in the Whitsundays.
Contender number two is João Cajuda from Lisbon, Portugal. João is an actor and student of journalism. His most essential travel phrase is... "Your finest beer please, barman!" Now he'll be right at home in Airlie Beach.
Contenders Giselle and Cody from Bangkok, Thailand are contender(s) number three. They're a kind, compassionate, animal loving married couple who LOVE to travel the world. Ahhhhhh, romance on Whitehaven Beach for you two then.
Josh Garcia is contender number four. Josh is from New York City in the United States. Josh dances in the mirror daily and his mom loves him. Will the voters love him too? They will on the dance floor of the clubs in Airlie Beach!
Contender number 5, the half way mark, is Ricardo Marques Carrijo from Goiânia, in Brazil. Watch out Airlie Beach, Ricardo is a life lover! No, he's not a vampire he has a passion for travelling, music, parties, and the connection between us all. Ricardo will be another favourite in the bars and clubs of Airlie Beach
Ceara McEvoy is contender number six. Ceara is from Cape Town, South Africa and describes herself as an explorer, an adventurer, a performer, a clown. She's passionate about meeting people and discovering new places. Now the Eungella National Park will be THE place for her to show off her explorer side.
Number seven is Véronique Morissette, such a lovely name. Véronique is from Ottawa, Canada and is a perfectly bilingual young lady that's always up for a new challenge. She'll have to try one of the Tiger moth Adventures and some of the water sports in the Great Barrier Reef then.
Barbara Oliveira from Lisbon, Portugal is contender number eight. She's a nice girl who describes herself as spirited and inquisitive with an intense desire to save the world, one frame at a time. She'll love the Great Barrier Reef.
Nasuna Stuart-Ulin is at number nine and is the second Canadian finalist, this time from Montréal. Nasuna is an award-winning photographer with an itch for the weird, wonderful. Lots of opportunities in the Whitsundays (we're not including the staff of my Destination Whitsundays in the 'weird' but the 'wonderful' category).
Last but by no means least is Dave Zwolenski. Dave's from Melbourne, Australia, and the Whitsundays are still on his list…WOW, go Dave. Dave says there's no pleasure more simplistic and beautiful than fresh air on an unburdened smile. He knows that's what he'll find in the Whitsundays if he wins.
So there you have it, these are the ten finalists who will know their fate on the 24th May…..Watch this space!