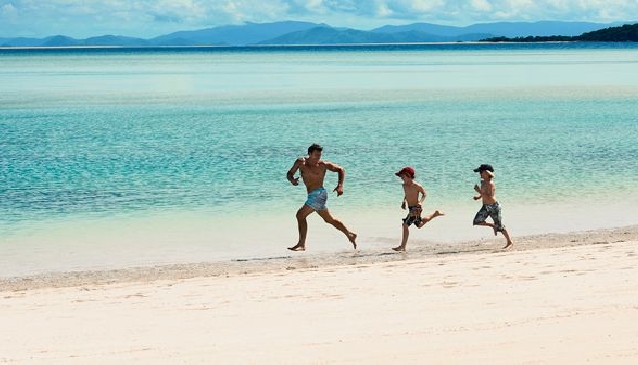 Heavenly Hayman Island
Adventure
Hayman has created an entire wellness and relaxation programme designed to relieve all stresses...
Check out a great video of Hayman Island below this article...
It is to Captain James Cook we owe thanks for discovering Australia's answer to paradise, Hayman Island, one of the top attractions of the Whitsundays. In 1770 he went in search of a southern land and chartered the waters we know now as the Coral Sea, setting the trend for anyone in search of an idyllic island adventure.
Several awards and countless celebrity visits later (Sir Cliff Richard himself chooses Hayman as his summer holiday), the island is well established as the destination for a first class holiday experience.
Having been recognised as the best resort accommodation by the Australian Travel and Tourism Awards, just one of the private island's many prestigious awards, Hayman is proud to offer five star accommodation and is pretty much the closest you can get to perfect in holiday world. The only difficult thing, should you be lucky enough to land on this exclusive island, will be deciding how to divide your time between exploring and relaxing...
One aspect of Hayman that lures luxury seekers year after year, aside from stunning beaches of course, is the chance to completely unwind. The epitome of spas, Hayman Spa indulges its visitors with every treatment imaginable and will leave you polished to within an inch of your life (which is a good thing I assure you).
But not content with providing its guests with a full spa experience, phenomenal as it is, Hayman has created an entire wellness and relaxation programme designed to relieve all stresses and ensure you return home totally chilled.
Another therapy this island delivers well is that of the retail persuasion. The resort's shopping continues the five star feel. Only the best in designer brands and one off boutiques are present, making for a spectacular shopping experience.
You could easily be forgiven for hiding away in the spa for the entirety of your trip. However, with snorkelling to be done, water sports to try and a helicopter tour available, it is highly unlikely that you will want to.
Hayman may be small in size but it certainly isn't lacking when it comes to activities and excursions, neither does it merely rely on the fact that the surroundings are beautiful. Swimming with dolphins, learning to windsurf and exploring the waters by kayak are just a handful of options which guarantee every minute on the island is filled.
With the Great Barrier Reef as surroundings, boat trips and diving are big business in Hayman; the reef is able to boast one of the best diving experiences in the world and this island goes a long way to ensure guests get just that. With an impressive fleet of dive boats, speedboats and ocean cruisers, Hayman allows everyone to enjoy this natural wonder of the world in whichever way they please, though the best way is probably through the lens of a snorkel.
As if Hayman hadn't provided enough for its privileged guests, there is also the opportunity to take home more than a suntan; 'Learn to' experiences are available to give holiday makers the beginnings of a new skill. Gourmet cooking, fishing and photography are just three examples of programmes which keep people returning to Hayman.
Hayman is even considered the ideal backdrop for some of life's landmark moments. Weddings and honeymoons are often celebrated here and the idyllic scenery lends itself well to romance. This, coupled with the seal of approval given by so many A-listers, is probably evidence enough of Hayman's quality.
Perhaps the closest thing to heaven on planet earth, Hayman is one island I wouldn't mind being stranded on...